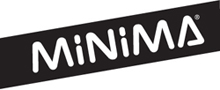 We are delighted to be the first and sole agent of LUNETTES MINIMA in jersey.
The lightest hard wear memory shape Beta-titanium rimless glasses currently on the market.
Minima has been conceived from the principle that glasses should enhance the face, not hide it.

Armed with fifteen years' experience of marketing and selling high-tech products, Maurice Timon has developed an entirely new approach to the "glasses of tomorrow".

Far beyond current trends, his first model saw the light of day in 1994, at which point a small optical revolution began.

No one as yet believed in this approach but with the slim titanium sides, an unheard of level of comfort due to exceptionally lightweight material, Minima became an immediate success confirming its position as a market leader of rimless frames.

Today there are some fifty designers working on innovative concepts for Minima, which is sold in more than seventy countries worldwide.
Timeless glasses
Refined lines that never go out of style, 100% French quality that holds up over the years, a few lightweight grams that are easily forgotten… The spirit of MINIMA glasses can be summed up in five universal qualities: simplicity, comfort, innovation, sturdiness, and subtlety.
Driven by innovation
Since its creation, MINIMA has not stopped inventing the glasses of tomorrow. From the first model to the latest novelties, MINIMA imagines innovative solutions to meet any needs. Running against the grain of fleeting collections that extol novelty for the sake of novelty, MINIMA focuses its creativity on utility tot produce lasting innovations.